Seniman asal Bali yang tinggal di London, Sinta Tantra, menorehkan warna warni Bali di kota pesisir Inggris, Folkstone, lewat salah satu karya seni terbarunya yang juga berada di sejumlah kota dunia.
"Orang bilang, karya seni saya membuat orang senang," kata Sinta dan menambahkan latar belakangnya berandil besar.
"Ini karena latar belakang saya juga, (asal Bali), saya merasa selalu gembira dan ini terlihat dari warna cerah, warna tropis dan orang senang karena bisa melihat kebahagiaan dalam warna dan geometri. Setiap lukisan berbeda dan saya ingin membuat sesuatu yang menyenangkan untuk dinikmati." tambahnya.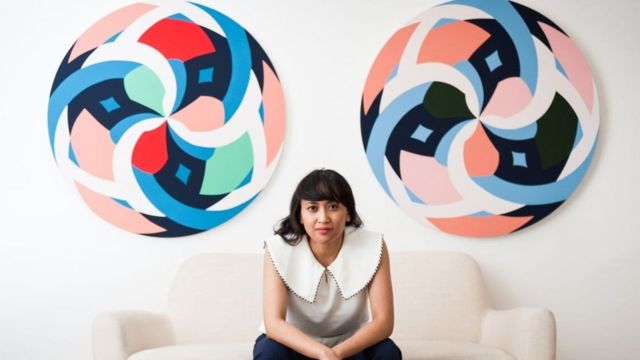 "Saya orang yang sangat optimistik dan itu terlihat dari karya saya."
Pusat pendidikan yang dijadikan karya seni Sinta di kota pesisir Inggris itu merupakan bagian permanen dari Folkstone Triennial yang berlangsung dua bulan sampai November lalu.
Gedung yang disebut The Cube ini terletak di persimpangan jalan kota pesisir yang sempat menjadi tujuan liburan orang-orang Inggris dan Eropa pada tahun 1950an.
"Mereka (Kota Folkstone) meminta buat mural di gedung supaya lebih cerah dan kota ini dulu menjadi tujuan liburan banyak orang," kata Sinta.
Warna yang digunakan untuk The Cube terinspirasi poster yang dia lihat pada 1947.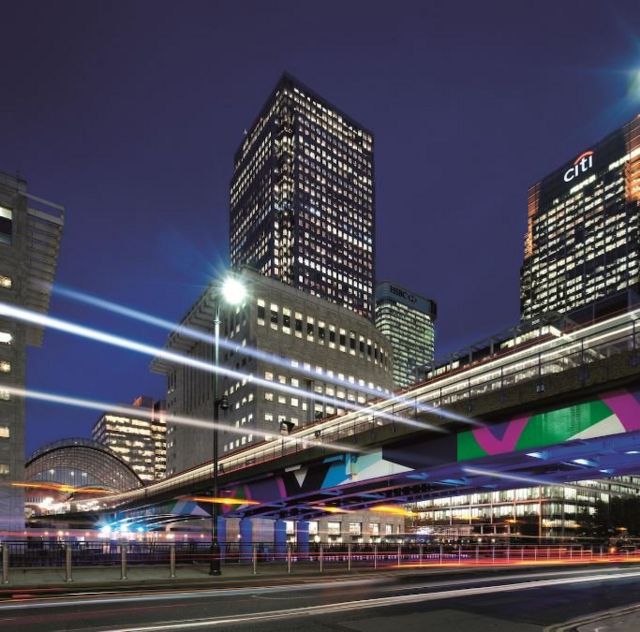 "Saya ambil warna dari poster yang glamour sekali dan saya ingin membuat folkstone supaya lebih bagus."
Sinta lahir di New York dan tinggal di London namun setiap tahun kembali ke Bali mengunjungi orang tuanya.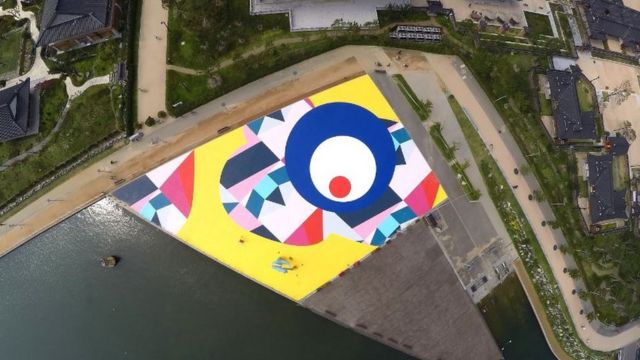 Di Inggris, karya seniman yang mendapat sejumlah penghargaan ini termasuk di jembatan 300 meter di daerah Canary Wharf yang diluncurkan saat Olimpiade London 2012, acara Liverpool Biennial, stasiun kereta bawah tanah London serta sejumlah universitas.
Karyanya di luar Inggris termasuk mewarnai lapangan sekitar 3.300 meter persegi di kota Sangdo, Korea Selatan dan juga pameran di Hong Kong.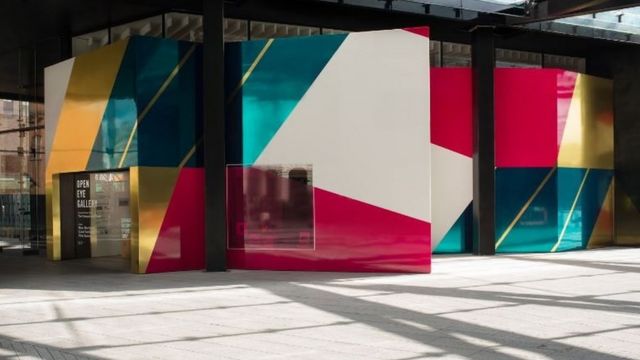 Bahagia dan optimistik lewat warna
Melalui warna, kata Sinta, ia berharap pula orang dapat menginterpretasikan sendiri.
"Warna itu cerita saya, pink dan kuning dan warna cerah dari Bali saya kombinasikan dengan hijau dan biru, warna Inggris. Jadi ada kombinasi Bali dan Eropa. Itu adalah cerita tentang saya juga," kata Sinta.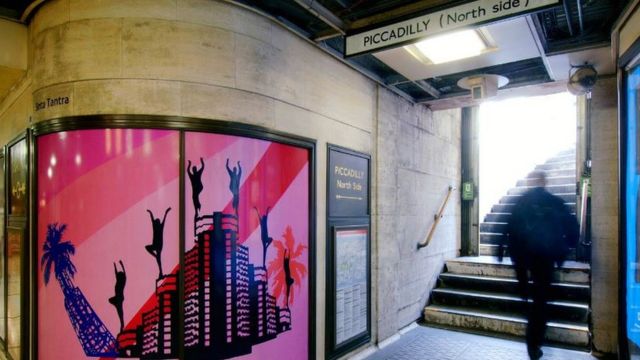 "Sangat optimisitik, itu karakteristik saya, saya optimstik tentang hidup… saya ingin cerita tentang bahagia dan perasahaan optimistik."
"Kadang orang merasa banyak warna pink untuk perempuan dan anak kecil, tapi bagi saya saya ingin kasih warna dan orang berpikir mengapa warna tertentu untuk anak kecil karena itu kan hanya warna."
November lalu, selain kembali ke Bali, Sinta mengadakan pameran tunggal pertamanya di Jakarta dengan tema, "A House in Bali," eksibisi yang terinspirasi dari buku komposer Kanada tentang perjalanan ke pulau dewata.
Sumber: bbc.com