mulai sekarang hingga 9 Maret, R & Company menyajikan presentasi tunggal karya baru kelahiran Chili, artis dan desainer baru di New York, sebastian errazuriz . 'breaking the box' terdiri dari pilihan patung fungsional terbaru Errazuriz yang dikuratori yang berusaha menentang batasan antara seni, desain dan teknologi.
"Kami cenderung memahami kenyataan dengan membatasi makna menjadi kotak tertutup dan disederhanakan yang didefinisikan oleh konvensi budaya sebelumnya," kata errazuriz. 'Kita hidup di dalam batas-batas kognitif yang sudah ada sebelumnya, di mana kita hanya cenderung melihat, mengenali, dan menerima sebagai kebenaran, apa yang telah dipesan dan didefinisikan sebelumnya. dalam 'memecahkan kotak', saya menggunakan seni, desain dan kerajinan untuk membuka hubungan kita dengan benda, fungsi, keindahan, dan waktu untuk mempertimbangkan kembali konvensi. '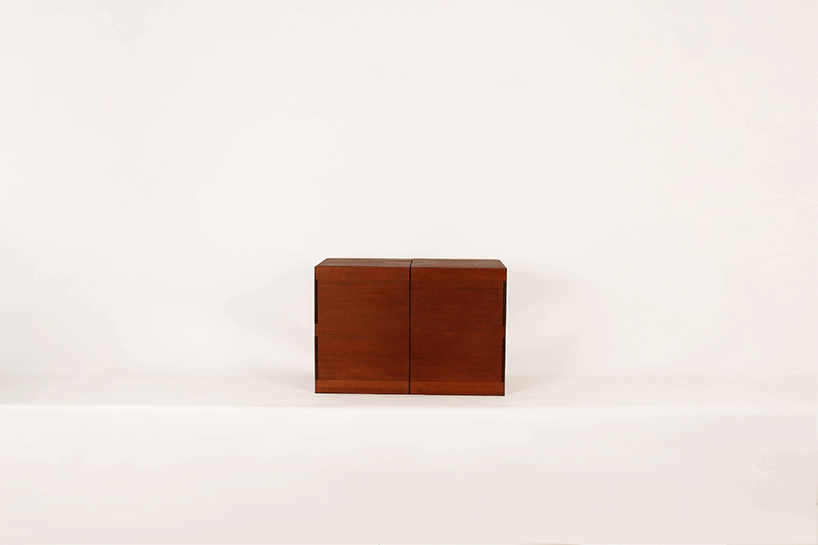 kabinet 'komplikasi besar'
ide konvensi dihidupkan melalui desain errazuriz yang baru dikembangkan. lantai atas R & company dikhususkan untuk seri 'kabinet mekanis', di mana setiap bagian dibuat dengan presisi teknis yang memungkinkan untuk transformasi yang luar biasa. " Seri kabinet mekanik adalah bagian dari latihan berkelanjutan yang sedang berkembang melalui sistem untuk menciptakan di luar kotak dengan cara metodis dan terstruktur,"  errazuriz menjelaskan.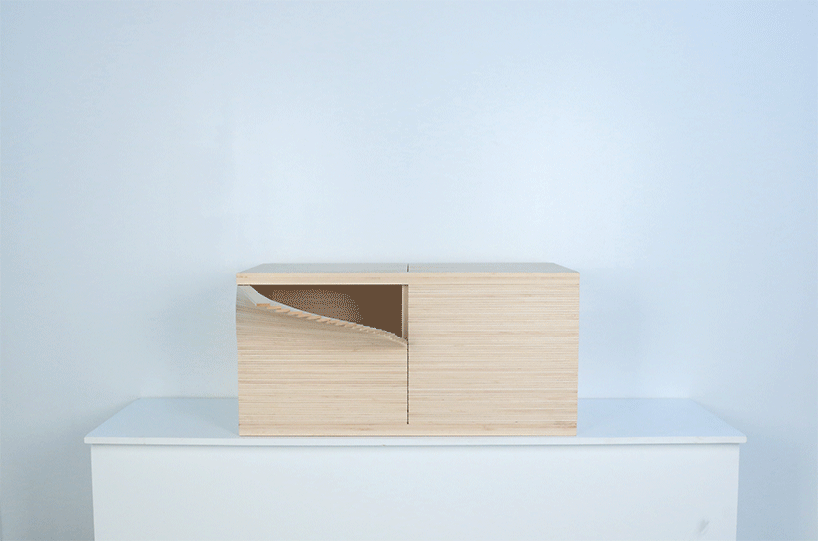 lemari kipas | kayu, elemen logam
36.63 ″ (L) x 17.75 ″ (W) x 17.75 ″ (H) / 93cm (L) x 45.1cm (W) x 45.1cm (H)
pada pandangan pertama, credenzas, kabinet dan kotak mungkin tampak elegan, tetapi masing-masing memiliki elemen yang mengejutkan. saat dibuka, karya interaktif dapat memutar, memutar, dan mengambil bentuk, warna, dan bentuk baru. memadukan teknologi canggih dengan kerajinan tradisional, koleksi ini berupaya menguji batas antara seni pahat dan fungsi.
fan cabinet (detail)
'breaking the box' juga debut potongan baru dikembangkan dari seri 'metamorfosis' errazuriz – sebuah bangku dan meja berukir kayu yang masing-masing terdiri dari basis bentuk pohon organik. Fokus lain dari pameran ini adalah lampu gantung burung monumental yang dipasang di ruang atrium 40 kaki galeri dan menyusuri tiga lantai.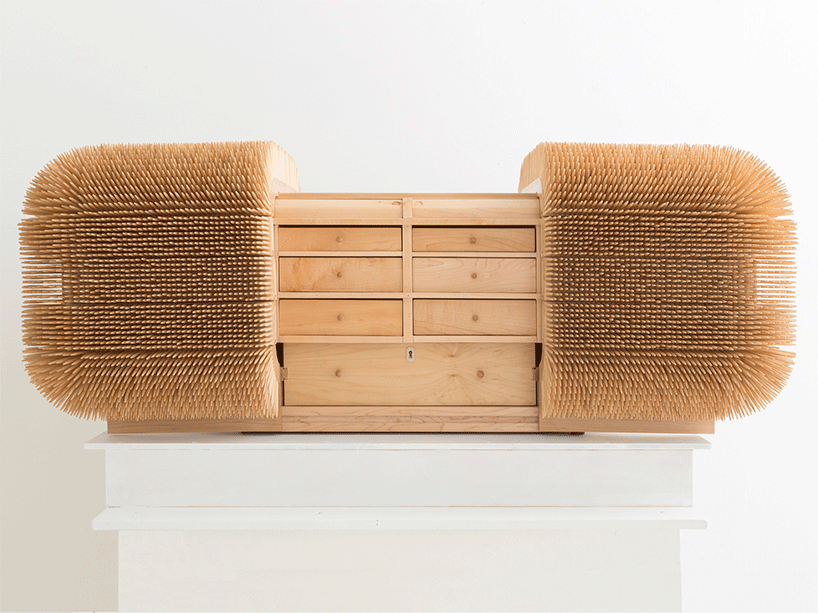 dada magistral | kayu maple, bambu, kayu lapis, dan perangkat keras logam
40 ″ (L) x 23 ″ (W) x 23 ″ (H) / 101.6cm (L) x 58.4cm (W) x 58.4cm (H)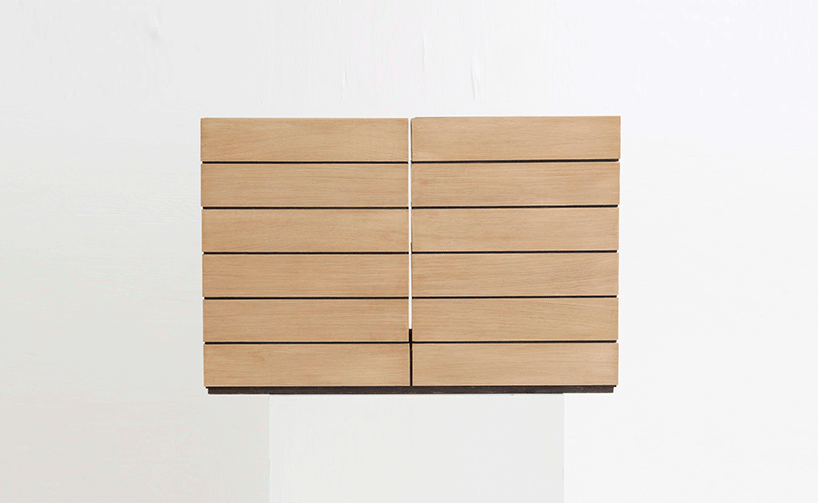 spin kabinet | oak, elemen logam
32.38 ″ (L) x 12 ″ (W) x 21.13 ″ (H) / 82.2cm (L) x 30.5cm (W) x 53.7cm (H)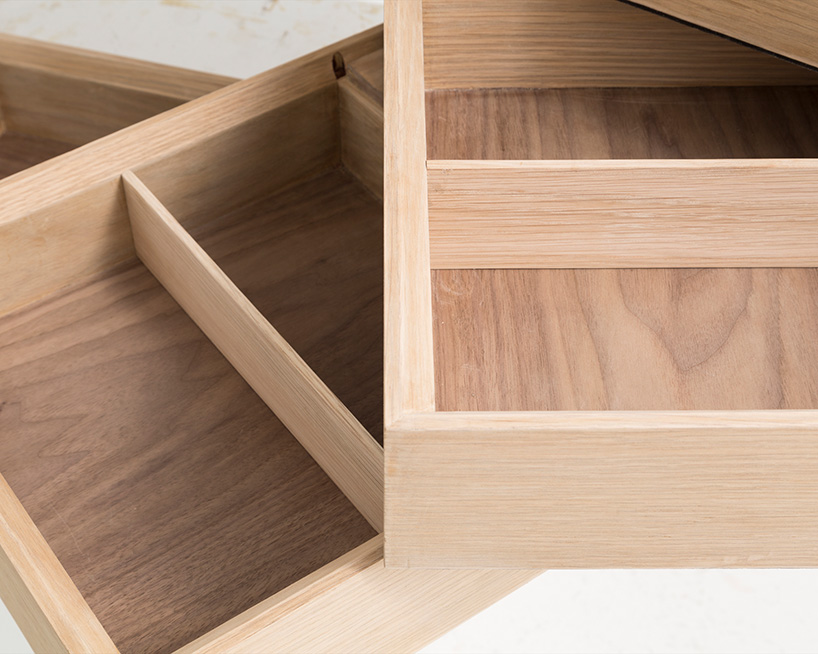 spin cabinet (detail)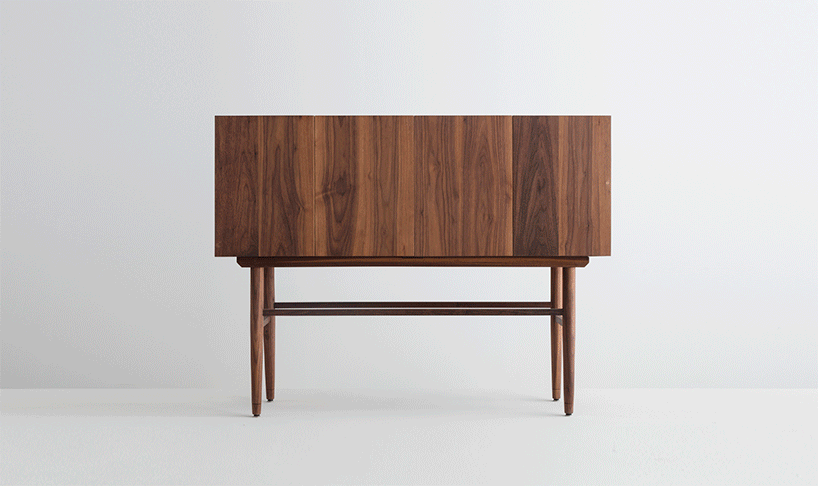 kabinet kaleidoskop dalam walnut | cermin, kaca, perunggu, lensa optik, dan komponen listrik
56 ″ (L) x 15.25 ″ (W) x 43 ″ (H) / 142.2cm (L) x 38.7cm (W) x 109.2cm (H)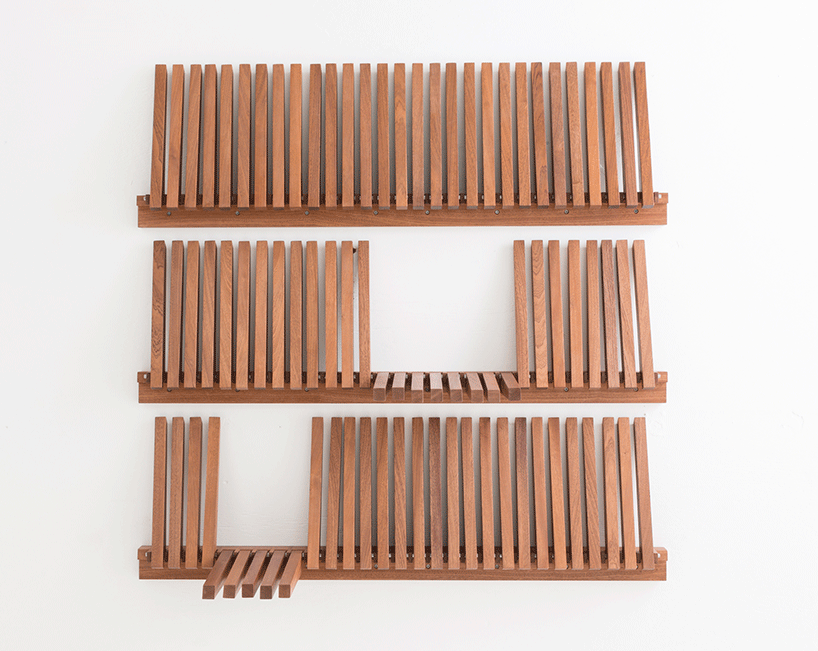 rak piano | kayu mahoni afrika, baja
48 ″ (L) / 121.9cm (L)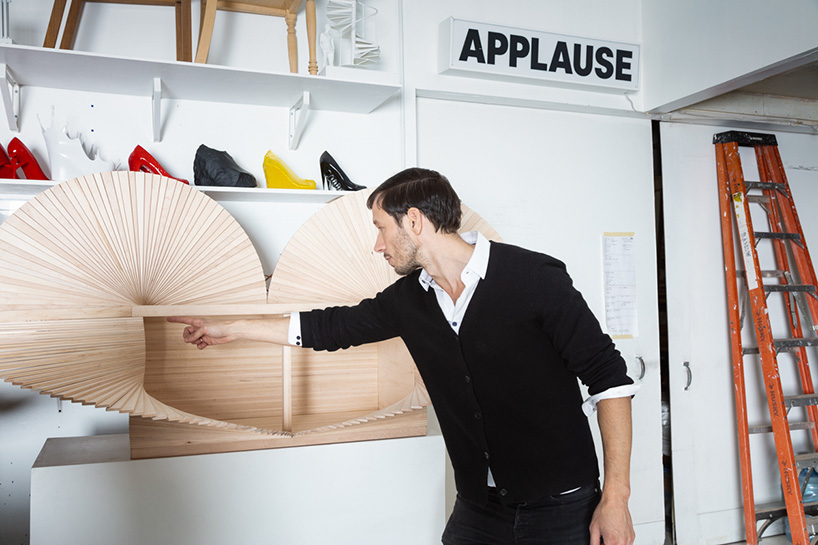 gambar oleh joe kramm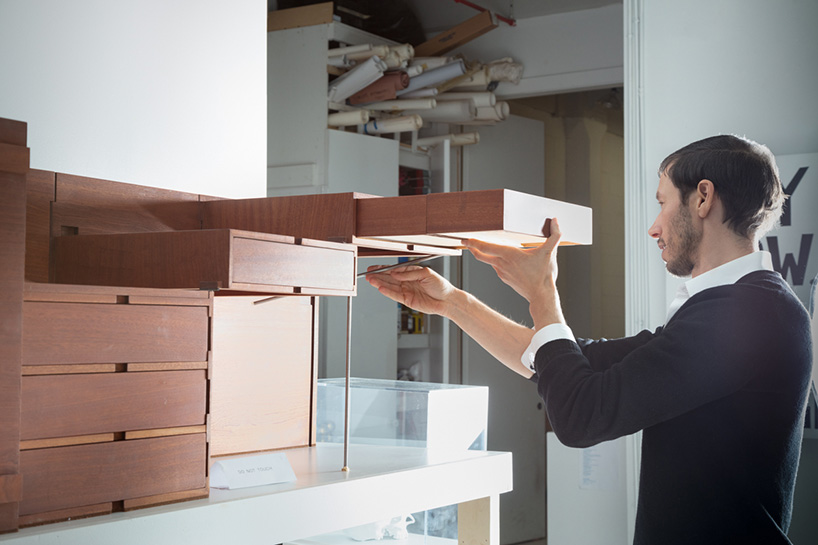 gambar oleh joe kramm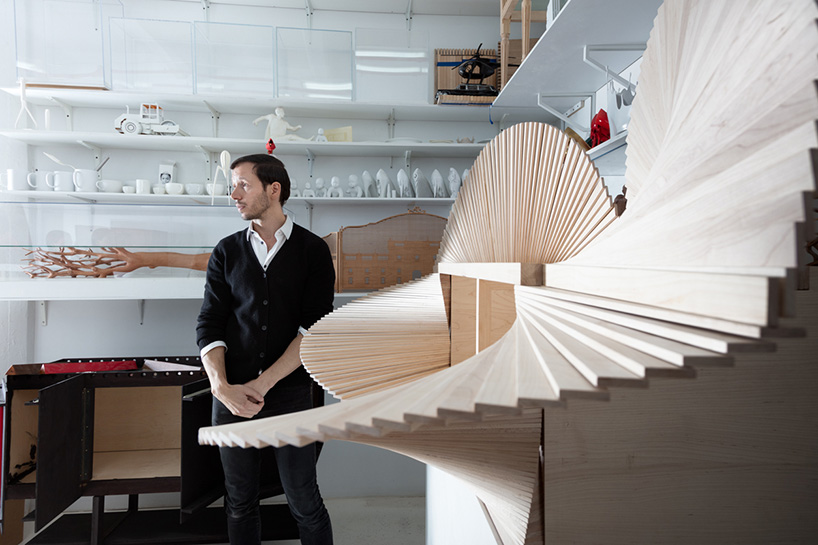 gambar oleh joe kramm
sumber: designboom.com